About us

Consumer Education and Research Centre, Ahmedabad
…Championing Consumer Rights
Consumer Edu
cation and Research Centre (CERC), set up in 1978, is a non-political, non-profit and non-government organisation dedicated to the education and empowerment of consumers as well as promotion and protection of consumer interests through effective uses of education, research, the media and law.
Beginning with a protest against a bus fare hike, CERC started handling complaints of ordinary consumers who could not take on the might of business. CERC has three major goals – to make consumers aware of their rights, to help them protect themselves and to make providers of goods and services accountable.
Its activities include, besides comparative testing of products, complaints handling, legal advice and litigation, consumer education and awareness programmes, library and information service, publication, advocacy, investor and environment protection.
At CERS's in-house laboratory, comparative testing is conducted in four product categories, viz. food, pharmaceuticals, personal care products and domestic electrical appliances. Other than in
J
apan, CERC's in-house lab is the only one of its kind in Asia. CERC has added a new dimension of energy consumption testing to its laboratory for electrical products; cooling and heating appliances, motors and pumpsets, fans and lightings.
The products are tested, evaluated, rated and ranked. The test reports identify the brands and their manufacturers and are published in the national press. For 15 years, from 1998 to 2013, the test reports were published in CERC's priced, mainly subscription based, national bimonthly 'INSIGHT – The Consumer Magazine'. Currently, CERC publishes a national consumer magazine in Hindi – 'Grahak Sathi'.
The organisation has published a large number of books, booklets, posters and videos on consumer protection. It has drafted a Bill on Freedom of Information and has been active in innovative use of law.
The CERC campus is spread over 10,000 sq. m and the organization has a staff strength of 53. CERC runs training programme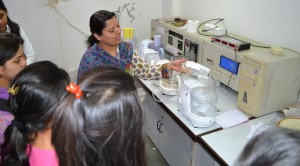 s for representatives of consumer organisations in India and abroad. The organisation is managed by a Board of Trustees.
Today, with 37 years of service to the consumer behind it, CERC looks forward with determination to doing far more in the future than it has already done.