Women outspend men in online shopping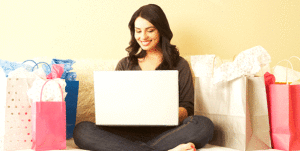 Women are not only outspending men while shopping online, they are also proving to be the more aggressive internet and tech-savvy gender when it comes to buying things through their smartphones.
Women are more likely to use plastic money, mobile apps and online travel portals, a study by American Express and Nielsen said. They are more active on the internet (47 hours spent per week on non-work related activities) compared to men (28 hours).
Diapers and pads to come with pouches
Manufacturers of 'sanitary waste' such as sanitary napkins, tampons, diapers and condoms in India will now have to provide pouches or wrappers with each pack of their product for proper disposal.
This is one of the major provisions in the Solid Waste Management Rules which the Environment Ministry has revised after 16 years. While it is primarily intended to address the issue of the reluctance of rag-pickers to handle sanitary waste, it will ensure a more hygienic environment for all.
Shops must register to dispense plastic bags
Only registered shopkeepers or street vendors are now eligible to provide plastic carry bags for dispensing commodities, as per the Plastic Waste Management Rules notified by the Environment Ministry recently. They will have to register with the local body and pay a 'plastic waste management fee' of a minimum of Rs. 4,000 per month.
The registered shopkeepers will have to display at a prominent place in their outlet that plastic carry bags are given on payment. Also, the minimum thickness of plastic carry bags has been increased from 40 microns to 50 microns.
Teen net use strongly linked to hypertension
A new research has found that teenagers who spend hours on the internet may be at risk of gaining unhealthy weight, leading to hypertension.
The study published in the Journal of School Nursing says that teens who spent at least 14 hours a week on the internet had elevated blood pressure. The researchers also found that 43% of heavy internet users were overweight compared to 26% of light internet users.
Men go crazy with food to charm ladies!
Men eat significantly more food in the company of women than they do with other men, says a study published in Evolutionary Psychological Science. Researchers at the Cornell University in New York observed 105 adults lunching at an all-you-can-eat Italian buffet over the course of two weeks. They recorded the gender of the partner, the number of pizza slices and bowls of salad ordered.
Men who dined with at least one woman ate 93% more pizza and 86% more salad than men who dined with only other men. The amount that women ate didn't differ when eating with other women or with men. In fact, when they ate with men, many women indicated that they felt that they were overeating and rushed through their meal.
Vitamin D reduces risk of colorectal cancer
New research brings some good news. Vitamin D decreases the occurrence of colorectal cancer by boosting the immune system. In a study conducted at Dana-Farber Cancer Institute in Boston, US, it has been found that the vitamin activates the T cells that recognise and combat the cancer cells.
Participants in the study who had high amounts of circulating vitamin D in the bloodstream were less likely to develop colorectal tumors. It was also observed that patients with colorectal cancer having high levels of the vitamin lived longer compared to those who had low levels.