SWEDEN
Fitness craze that is good for environment 

    
Civic sense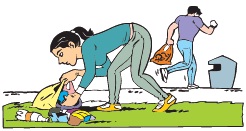 Want to keep fit and do your bit for the environment, but don't have time for both? Plogging is the answer! Plogging is a fitness craze that encourages people to pick up litter while jogging, says planetark.org. It started in Sweden and became a social media phenomenon. The term is a mix of jogging and 'plocka upp' – Swedish for picking up rubbish.
Plogging combines cardio with squats, as runners pick up rubbish which is strewn along their jogging routes and find a responsible place to dispose it of. Many ploggers take litter home to place in their kerbside recycling bin.
Double benefit
USA
Men owning dogs luckier in love
Caring companion 
Men who own dogs may have better luck in finding love as they appear to be more caring, attractive, happier, empathetic and approachable. Both women and gay men feel such men will be loving and caring partners and parents.
Dr Helen Fisher, chief adviser to Match.com, told the New York Times that the message women get when they see a man with a dog is that he is capable of nurturing and commitment. If you have a dog it shows that you spend time and energy caring for your pet. These are qualities people usually look for in their partners, she said. Other studies have found that people posing for photographs with dogs look happier.
Man's best friend    
 UK
'Phubbing' is ruining your relationships
No sense of belonging
The practice of ignoring someone you are with in a social setting to concentrate on your mobile phone, which is called "phubbing", can have a negative effect on relationships. According to a study published in the Journal of Applied Social Psychology, the practice could threaten our basic human needs – belonging, self-esteem, meaningful existence and control.
Psychologists from the University of Kent in Britain found that those who were subjected to phubbing perceived the communication quality to be poor and the relationship to be less satisfying.
Phone etiquette