Should you get a bank locker?
A daring bank robbery took place last year in Bank of Baroda's Navi Mumbai branch. The burglars dug a 25-feet tunnel and stole valuables worth over Rs 2.85 crore stored in lockers.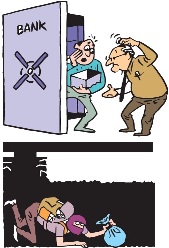 It is a common practice for people to keep jewellery, gold coins, silverware, expensive watches, important documents and other valuables in a bank locker. But incidents like the one described above make you wonder how safe your valuables are in a bank locker! This is particularly so as banks themselves do not take any responsibility for the safety of locker contents.
Banks' disclaimer
A recent RTI response by the Reserve Bank of India (RBI) and 19 PSU banks stated that the locker hiring agreement absolves banks of all liability for the loss of valuables in lockers.
Banks argue that since they do not know what a locker contains they cannot be held liable if something is damaged or goes missing. In fact, banks advise locker holders to insure the items deposited in lockers.
A typical agreement states:"The bank is not responsible for any loss or deterioration of or damage to the contents of the locker whether caused by rain, fire, flood, earthquake, lightning, civil commotion, war, riot or any other cause/s not in the control of the bank." It further reads, "While the bank will exercise all such normal precautions as it may in its absolute discretion deem fit, it does not accept liability or responsibility of any loss or damage whatever sustained to items deposited in the locker." 
How to get a bank locker
It is not easy to get a locker. For one, not all bank branches have lockers. There is usually a waiting list and banks have their own methods to prioritise applications. The RBI asks branches to ensure transparency in allotment but this is not always followed. Usually, to obtain a locker you have to open a savings bank account in the branch. Also, you have to draw an agreement on stamp paper costing around Rs. 200.
Most banks require you to invest in a fixed deposit (FD), pay the locker fee in advance, maintain a certain balance or invest in any of their financial products. As per RBI guidelines, banks can ask for fixed deposits equivalent to three years' locker fee.
Public sector banks charge between Rs.1,000-7,000 per annum depending on the locker size and the bank, whereas lockers offered by private banks are in the range of Rs.3,000- 20,000. A privileged customer (one who has to maintain a higher minimum balance) may have to pay lower charges.
Precautions
Do your homework well before opening a locker. Check the rental cost in different banks.
Always ask the bank to show you the locker room and the locker size.
Do not get pressurised into buying a financial product just to get a locker.
Check that the bank has proper CCTV camera facility so that in case of any theft, accused persons and your valuables can be traced.
Always open your locker after the bank employee, who accompanies you to the vault, leaves the place.
Ensure the locker is properly locked before you leave the vault.
If you lose the key, report it immediately.
Jewellery insurance
If you opt for contents section under a home insurance policy, jewellery and valuables, including those in a bank locker, are included. The risk of accidental loss, damage and theft are covered. Some policies also cover jewellery worn in person. There may be a sub-limit for jewellery. For instance, if the contents cover is for Rs. 5 lakh, jewellery worth only Rs. 1.25 lakh (25%) may be covered.
If we compare the two options – insurance and lockers – bank lockers are less expensive and the procedure is simpler requiring less paperwork. Moreover, the charges for lockers do not increase as you add valuables as in the case of insurance. Lockers can be used for securing important documents as well. Finally, bank vaults are a safer place to store valuables than your home. So, it is worth going in for a locker.