Dec. – 16: ENVIRONMENT SNIPPETS
Indian govt wakes up to dangers of asbestos
The Indian government is finally waking up to the dangers of asbestos use. Environment minister Anil Dave has said his ministry would ask scientists to find a non-hazardous substitute for asbestos. Fifty-five countries have banned the use of asbestos as exposure to the material's emissions increases risk of mesothelioma, a deadly form of cancer.
Besides being used as an ingredient in a number of products like roofing, water supply lines and fire blankets, asbestos is widely used in auto components, especially for brakes, clutches and brake linings putting both auto mechanics and commuters at risk.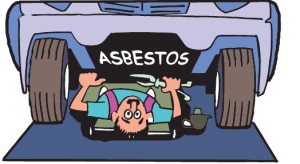 Flexible office timings to curb pollution
As part of an action plan to control pollution, the Central Pollution Control Board (CPCB) has directed Delhi and other NCR states to consider introduction of flexible and staggered office timings to reduce peak-hour traffic. Much of the Delhi-NCR traffic comprises daily commuters who work in corporate and multinational offices. Previous moves to shift office timings to non-peak hours have drawn a mixed response.
The CPCB directive follows discussions with Delhi, Uttar Pradesh, Haryana and Rajasthan. The NCR state governments have agreed to 36 other measures including retrofitting of diesel vehicles with particulate filters and impounding of visibly polluting vehicles.
India at great risk of deaths due to climate change
Climate change is likely to kill 250,000 more people each year by 2030, latest assessment by the World Health Organization (WHO) shows. Most of these deaths will be caused by malaria, diarrhoeal disease, heat stress and malnutrition. India, which already has a high burden of these diseases, is expected to contribute significantly to the global death toll.
Climatic conditions intensely affect diseases transmitted through water and insects. WHO has asked countries, including India, to spend more to protect itself from health risks linked to climate, such as extreme weather events like heat waves and floods, and outbreaks of infectious diseases. It has also stressed the need to shift to cleaner energy sources.