Dec.17: ENVIRONMENT SNIPPETS
How viable are electric cars?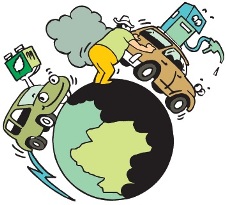 India has said it wants to replace all cars with electric ones by 2030. Many other countries too want to phase out use of petrol and diesel vehicles. But it is feared that switching to electric carries its own environmental and economic concerns.
In a recent study, Swedish Environment Institute IVL found that production of a large battery for an electric car currently results in the emission of up to 17.5 tons of carbon dioxide, equivalent to around 700 hours of driving in a standard car. Electric cars are also much costlier than their fossil-fuelled counterparts. Moreover, the number of charging points needed to make the change viable would be huge.
NGT slaps Rs. 50,000 fine for dumping in Ganga
In a significant order, the National Green Tribunal (NGT) has directed that an environmental compensation of Rs. 50,000 be imposed on anybody who is found dumping any kind of waste in the river.
The NGT has directed that there will be no dumping or landfill sites of any kind within 500 meters from the edge of the river Ganga or any of its tributaries, according to news reports. There will be complete prohibition on disposing of municipal solid waste, electronic waste or biomedical waste. Around Rs. 2,961 crore has been spent under National Mission for Clean Ganga since 2011 but the river remains polluted.
Kerala govt uses model practices to reduce waste
A unique waste management system called the 'Green Protocol' has become a people's movement all across Kerala. It focuses on saving money as well as resources by preventing generation of non-biodegradable waste.
Described in sanitation.kerala.gov.in, the key strategy of the protocol is to stop using disposables. This includes avoiding use of disposable water bottles, paper, styrofoam and plastic cups and plates, plastic bags and aluminium food packaging. Instead, reusable alternatives made of steel, glass and porcelain are used. The protocol came into the limelight during the National Games in 2015 and is today implemented at many functions, including weddings.