Choosing the right toothbrush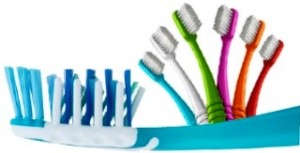 How do you choose your toothbrush? Do you have a steady favourite bought out of habit? Is it the colour of the handle that attracts you? Or, do you look for a discount? If it is any of these, read our article to know what you should actually look for in a good toothbrush.
Bristles: Pick a toothbrush with bristles that are soft and have rounded tips. It will be gentle on your delicate teeth enamel and gums. Hard bristles lead to increased sensitivity. Multi-height or multi-angled bristles may improve access to tooth surfaces.
Head size: Select a toothbrush head size that can easily fit into the mouth and can brush one or two teeth at a time. The general size is 1″ long and ½" wide. The shape of the head makes no difference. 
Handle: The toothbrush should have a long enough handle so you can comfortably hold it in your hand. Look for a non-slip handle and a rubber grip. A handle with a flexible neck may help you reach some teeth better. Incidentally, the Chinese invented the first toothbrushes, made by embedding hog hairs into ivory, bone or bamboo handles.
Good brand: Don't go for cheap toothbrushes. They may be made of inferior or unsafe materials apart from being less effective. 
Powered toothbrushes:Â Manual toothbrushes are as good as powered toothbrushes in cleaning teeth. However, if a powered toothbrush motivates you to clean your teeth more often and longer, it is worth the expense. Also, they are good choices for people with arthritis, those wearing braces or having misaligned teeth that make a thorough cleaning more challenging.
Replacing your toothbrush:Â Replace your toothbrush as soon as the bristles begin to look worn – usually every three months. Using a worn toothbrush is less effective and can damage gum tissue. Always replace your toothbrush after an illness. Store your toothbrush in a place where it will dry quickly. And, remember, choosing the right toothbrush is the first step to good oral care.
Sources: www.deltadentalins.com, www.thehealthsite.com, www.besthealthmag.ca