Posted by

CERC India

Posted in

DCMBR
Probiotic use linked to brain fogginess, bloating
Not without side effects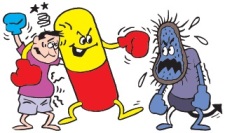 Probiotic use can result in accumulation of bacteria in the small intestine that can cause brain fogginess as well as belly bloating, according to a recent study. The report was published in the journal Clinical and Translational Gastroenterology.
Probiotics should be treated as a drug, not as a food supplement. Many people self-prescribe probiotics as they are considered good for digestion and overall health. While probiotics can be beneficial in helping a patient restore gut bacteria after taking antibiotics, excessive and indiscriminate use can be dangerous. 
Take with care  
Intermittent fasting can lead to diabetes
 Abdominal fat   
 Intermittent fasting diets could increase diabetes risk, suggests a study. Researchers from Brazil examined the effects of fasting every other day on healthy rats. Their report was presented at the 2018 annual meeting of the European Society of Endocrinology.
The study found that though the rats' weight declined the amount of fat tissue in their abdomens increased. Moreover, the pancreatic cells that release insulin showed damage and insulin resistance was detected. Since overweight people who opt for fasting may already have insulin resistance, they are at risk of developing type-2 diabetes.
Pancreas damage