CERC Chairman gets Padma Shri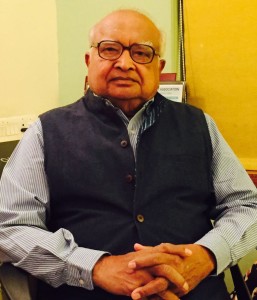 Dr. V.G. Patel, Chairman of CERC, has been honoured with a Padma Shri by the Government of India. An eminent economist, Dr. Patel is considered the father of the entrepreneurship development movement in the country and the developing world.
Says Dr. Patel, on the honour: "Gujarat can take legitimate pride in the fact that four unique initiatives originated here which have been game changers in the national development scenario – the Dairy movement led by Dr. Kurien; the SEWA movement by Elaben Bhatt; the Consumer movement by Manubhai Shah; and the Entrepreneurship Development movement by V.G. Patel."
He has a doctorate from the University of Wisconsin, US, where he later taught. He started his career in India in the Planning Commission (1969). He was appointed Chief Economic Adviser for Gujarat Industrial Development and Investment Corporations (1969-79). Dr. Patel founded the country's first Centre for Entrepreneurship Development in 1979 and was its Director till 1983. In the same year, he set up and became Managing Director of ICICI-IDBI-IFCI supported Gujarat Industrial and Technical Consultancy Organization Limited (1979-83).
In 1983, he became the Founder Director of Entrepreneurship Development Institute of India (EDI), India's first national institute set up by IDBI and leading financial organizations to create, promote and support entrepreneurship in the country. When he ended his tenure at EDI in 2003, EDI had become an Inter-Regional Centre for Entrepreneurship and Investment Training for United Nations Industrial Development Organization (UNIDO) and the Government of India.
Dr. Patel has led several missions and projects for the World Bank, International Labour Organization (ILO), UNIDO and the Commonwealth Secretariat and counselled many Asian and African countries on entrepreneurial issues. He has been awarded the Aga Khan International Award for pioneering work in entrepreneurship by the Aga Khan Foundation, Geneva.
He has written several books, notable among them are: 'Innovations in Banking' a study funded by the World Bank, and the 'Seven Business Crises – How to Beat Them'. Dr. Patel has been a member of two national apex policy-making bodies for promoting entrepreneurship in the country (National Entrepreneurship Development Board in the Industry Ministry and National Science and Technology Entrepreneurship Development Board in the Department of Science and Technology).
He has been a Governing Board member of several national and state education and training institutions. He was a member of the prestigious National Expert Committee (Abid Hussain Committee) on Small Scale Industries which revised the Small-Scale Industry policies in the country.