Celebrity endorsements: Hue and cry over bid to control
Today, marketing and promotional techniques have become very aggressive. The advertiser's only aim seems to be to influence as many people as possible, rightly or wrongly, to buy its products and services. Ethics and responsibility have taken a backseat. Only profits matter!
Manufacturers, media (which carry the advertisements) and celebrities have all contributed to this growing menace. Finance Minister Arun Jaitley chaired a meeting of the Group of Ministers a few months ago in which a jail term of up to 5 years and a fine of Rs. 50 lakh were mooted for celebrities featuring in misleading advts. This caused a huge uproar.
Debate rages on
So let's go through some arguments put forward by celebrities and their supporters. Do they make sense? You decide.
Shuttler Saina Nehwal feels celebrities already abide by the rules made by the regulatory authorities and wants the government to protect them! True, the government is responsible for setting standards for products and gives licences. But Miss Nehwal, the government plays no role in the claims that the manufacturer/advertiser makes in a print advt or radio/television commercial. There is no system of pre-vetting of advts  in  India like in other countries.
Rio silver medallist P.V. Sindhu feels that a celebrity should be morally responsible but not legally. Another argument by celebrities is that how can they test the product they endorse? If the regulatory authority has given a licence to the manufacturer and test findings later reveal that there are some harmful ingredients (eg. Maggi noodles case) – then clearly you can't blame them. But when Madhuri Dixit is advertising Maggi noodles with 'Taste bhi' 'Health bhi' claims and recommends the product for breakfast or as a healthy snack for kids – it is irresponsible advertising. Noodles are junk foods high in fat and salt.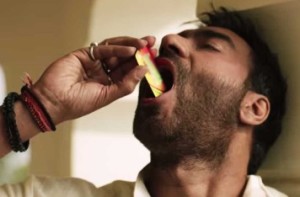 Bollywood actor and youth icon Ajay Devgn has endorsed Vimal Pan Masala. This product comes with a health warning that it is injurious to health. But did that stop Mr. Devgn? No! Did he need technical reports to understand what kind of product he was endorsing?
Influencing choices
Across the world, authorities believe celebrities influence choices and therefore should be held liable if they influence consumers into making harmful choices. If only celebs would take the trouble to go deep into the details of the product and its claims before endorsing it! If only they scrutinized endorsements the same way they do a script and contract terms before signing a movie.
Marketing guru Suhel Seth says: "It is the consumer who is responsible. It is he or she who is making a choice." Mr. Seth, if consumers were savvy and were not influenced by celebrities, why are liquor, tobacco, gutkha advts not allowed? Why are there strict regulations globally on the products that celebs cannot endorse?
Adman Prahlad Kakkar opines that celebs are just soft targets. You can't hold them responsible for what they don't manufacture. Why not? They are very much responsible for the tall claims that they endorse on behalf of the advertisers. Adman Prasoon Joshi has a more balanced view. He says: "The consumer needs to be protected at any cost from profiteering." Well said Mr. Joshi. 
Celebs are victims?
Celebrity manager Anirban Das Blah is quoted in Economic Times as saying that celebs are victims of a crime because they sign contracts which have a clause that the manufacturers are not making false claims. So, it is the company and not the celeb who is responsible.
Is it difficult to use the product themselves or take independent opinion from others as to the efficacy and safety of the product before they endorse it? True all the other agencies involved in the advt should also be made responsible. But that does not take away the responsibility of the celebs.
What then is the way forward? There is no doubt that India needs to regulate its advertising industry. Celeb roles and responsibilities in advertising need to be detailed on the lines of global best practices. Advertising Standards Council of India (ASCI), the only current self-regulatory authority, needs to be more consumer friendly and shed its tendency to protect industry.
Honorable Minister Mr. Ram Vilas Paswan needs to be complimented and supported for having taken the initiative to address this challenge of controlling misleading advts, at the cost of rubbing some celebs and companies the wrong way. Consumers of India are looking forward to the Minister and his team in the Ministry of Consumer Affairs (MoCA) taking stringent steps to protect their rights.
Please don't fail us.