Only one MRP for packaged items in a state
There cannot be two maximum retail prices (MRPs) for the same packaged item within a state, the Department of Consumer Affairs has said in its advisory to states. This means that no packaged item, including bottled water and other beverages, can have two different MRPs at shops, multiplexes or airports.
"There is no dual MRP provision in the packaged commodity rules and hence state governments must ensure that no one is selling packaged items at different prices within a region. In case of different MRPs, the lowest one will be treated as the actual price," an official said.
Food packed in newspapers slow poison: FSSAIÂ 
Using newspapers to wrap, cover or serve food or to absorb excess oil from fried food is a common practice among street vendors. According to the Food Safety and Standards Authority of India (FSSAI), consumers are slowly being poisoned by cancer-causing agents and microbes because of this practice.
Pointing out the possibility of food contamination from printing ink or other harmful carcinogenic chemicals, FSSAI issued an advisory suggesting restricted use of newspapers and cardboard boxes for packaging food items, including snacks. The advisory will be followed by an active campaign and inspection of local food outlets by food inspectors.
Paying service charge in restaurant is optional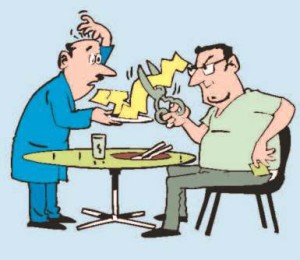 The Department of Consumer Affairs, Government of India, has clarified that itis 'optional' for a customer to pay the service charge added to a restaurant bill. It has asked states to advise hotels and restaurants to display the information that service charge is a discretionary fee and a consumer dissatisfied with the service provided need not pay it. This move follows complaints that hotels and restaurants are levying 5-20% service charge in lieu of tips.
This rule has always been there but it was not implemented properly. It is to the customer's discretion if he wants to pay the service charge or the tip whether or not he has liked the service. As such, action can be taken against hotels and restaurants which levy service charge in the bill without the knowledge and consent of consumers on charges of indulging in "unfair trade practices".
Adani Wilmar flayed for making false claims
There was a furore in Parliament recently about Adani Wilmar's product Fortune Vivo for making false claims on the packaging. Positioning itself as 'India's First Diabetes-Care Oil', it claims to help reduce high blood sugar levels; improve insulin sensitivity and lower high blood pressure. CERC had objected to these claims and complained to Advertising Standards Council of India (ASCI). Initially, ASCI upheld the advt but subsequently told us that the company had gone to court and the matter was sub judice.
The minister of state for Food and Drug Administration, Madan Yearwar, admitted that laboratory reports had found that the oil's acid value was above the prescribed standards and that Vivo packets carried misleading claims. Members demanded that an FIR be registered and stringent action be taken against the company.