USA

 
Secret to being likeable and emotionally intelligent
Art of questioning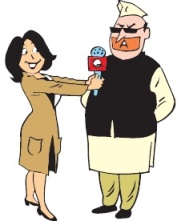 Asking questions is one of the most important aspects of trusted and open relationships, higher emotional intelligence and learning. This was revealed by a US study 'The Surprising Power of Questions' published in the Harvard Business Review. The study discusses the knack of asking questions.
A major finding was that follow-up questions are especially important because they signal an interest in the person you are talking to. Open-ended questions are better than simple yes/no or multiple choice questions, since they result in richer and more revealing answers. Starting with the toughest or most invasive question first is a good strategy. Finally, the tone matters – people are more forthcoming when you ask questions in a casual way.
The right tone
UK
Britain to ban use of plastic straws

 
Tackling marine waste  
Britain plans to ban the sale of plastic straws, drink stirrers and cotton buds in a bid to tackle marine waste. This was announced at a recent Commonwealth Heads of Government meeting, according to news reports. In the UK, about 23 million straws are used and discarded daily.
The proposal aims to phase out single-use plastics which cannot be recycled and contribute to ocean deterioration, damaging ecosystems and wildlife. The UK has already started the practice of charging for single-use plastic bags and banning microbeads in products. Britain's Prime Minister Theresa May has pledged to eradicate avoidable plastic waste by 2042. 
Eco-friendly step   
SWITZERLANDÂ 
Smartphone addiction could lead to memory loss

 
Minimise use
Excessive use of mobile phones could impair the brain's ability to retain new information and form new memories. This is due to 'digital amnesia', where our brains are fast losing their ability to remember as we become increasingly reliant on technology to retain data. Also, smartphone addiction causes distraction and results in interrupted sleep. Both these factors make it harder to form memories.
Increasing exposure to mobile devices negatively affects the figural memory (which helps us make sense of images, patterns and shapes) of adolescents, revealed a recent study published in Environmental Health Perspectives. It was conducted by researchers at Swiss Tropical and Public Health Institute.
Affects teens