February-20: COVER STORY Â 
10 signs that you are at a bad restaurant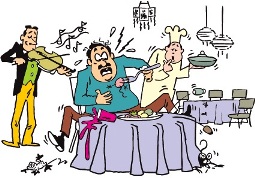 Dining out is an experience that most of us look forward to. Not only is it a change of scene where you get to try different kinds of cuisine, you don't have to cook or clean up at home that night. However, if the restaurant you select is not up to the mark, you may wish you had eaten at home! Described below are 10 warning signs that the restaurant you are at is not a good choice.
The restaurant is nearly empty: If there are few customers especially at peak hours – lunch or dinner time – it is a warning sign. It could be because the food is overpriced or it could be because of bad customer service and poor-quality food. In fact, waiting for a table, particularly on a weekend, may be irksome but it is a good sign.  
Attitude and hygiene of staff: If you are not greeted warmly at the entrance and seated soon, it is better to walk out. Staff that is disinterested and apathetic indicate that the restaurant is not being managed well. Other red flags are if the staff does not come to your table to take your order quickly or there are errors in serving the food even when the restaurant is not busy. If the staff is not well groomed, you may have doubts about the food quality as well. The chef and the kitchen staff should have clean uniforms and hairnets or caps. 
Poor maintenance: If the interiors of the restaurant are poorly maintained, you should not go back there. Dirty windows, doors and carpets, unswept floors and stained walls, a dirty restroom, and a bad smell, are signs that cleanliness is not a priority. If there are flies or if the utensils and cutlery are not clean, avoid the place in future. 
You are surrounded by tourists: If this is a case, it may be because the restaurant is near a tourist attraction. If you find locals eating at a place, it is more likely to serve good food. 
Customers don't look happy: Glance at people who are eating their food. If they look disappointed or unhappy, you can be sure the food or service is not good. 
The menus are messy: If the menus are worn out or stained, and the items are poorly spelt, watch out! If the menus use flowery language you can be sure it is mostly hype.  Check the prices. If they are too low, so may be the quality of the food. 
Too much variety: When the menu is long it is a warning sign as well. When you are given a broad choice of food you can't be sure of how fresh the items are. Also, if two or more styles of cuisine are being promoted, you can be sure the food will be mediocre.
---
What customers say…
If I find sticky tables, stained plates I would avoid visiting such a restaurant a second time. I don't go too much by online reviews. There have been instances where a restaurant that is rated 3.2 stars turned out to be one of the best I have visited.
 Agniv Banerjee, Bengaluru
One of the things that puts me off is the smell. Also, I pay attention to the how the menu is worded, the spellings, and its appearance. If the waiters are not knowledgeable about the offerings it is another bad sign for me.
 Priya Raghuram, Vijayawada
It is not always easy to make out a good restaurant from one that presents itself well. It is important to observe minute details. For instance, I would never return to a restaurant where the waiters dip their fingers in the glasses they bring to the table or are chewing something.
 Bakhtiyar Alam Syed, Surat
If there are multiple one-line good reviews and no negative ones, it is a red flag for me. Also, the management's response to the negative reviews gives me a fair idea of their attitude. A proactive management is a good indicator of a well-trained and attentive staff.
Staff with poor hygiene, dirty washrooms, greasy menu are sure shot giveaway for an unhygienic kitchen. If a restaurant doesn't keep things that are seen by guests clean, you can imagine what would happen behind closed doors.
Navneet Gill, Chandigarh




---

Poor presentation of food: While it is a given that you won't return to a restaurant if you find a bug, hair or some other contaminant in your food, poor presentation is another sign that the chef and other kitchen staff do not really care. Too many errors in the orders are another bad sign. If a restaurant is busy there may be some errors while serving food. But if there are too many, you can be sure the staff has not been trained well.
The wrong temperature: If your coffee is lukewarm and your ice cream is soft and melting, not only will your taste buds protest, it could also be a sign that the food is unsafe. Again, if food is served too quickly, it may mean that it is not freshly made.
 Kitchen looks chaotic: A kitchen that does not look clean and organised is a bad sign. Also, if you are not able to take a look at the kitchen it may because it is not so well-maintained.
---
 In Gujarat, customers can now enter hotel's kitchen
The Commissioner, Food and Drug Control Administration (FDCA), Gujarat, has recently issued a notification asking restaurants and hotels to remove 'no entry' signs from their kitchens so that customers can enter them and inspect the level of hygiene. Gujarat is perhaps the first state in India to implement such an initiative. The FDCA has also asked restaurant and hotel owners to install transparent glass on kitchen doors so that customers can look inside.
---
Finally, do not go by online reviews only. Instead, rely on friends or family to give you word-of-mouth feedback on a restaurant.
Sources: www.rd.com, www.insider.com, www.foodnetwork.com, www.dailymail.co.uk co