Posted by

CERC India

Posted in

2019
What we did: We lab-tested eight brands of vanilla ice cream to see how they compare for sugar and fat content. We also checked whether they were safe for consumption.  Those  that  passed  industry safety standards were blind tasted by our expert panel.
The eight brands were – Amul, Baskin-Robbins, Havmor, Kwality Walls, London Dairy, Vadilal, Dairy Den and Vimal.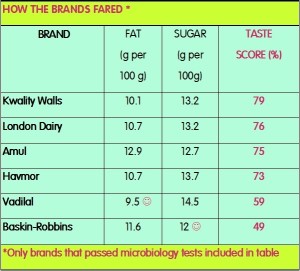 Fat and sugar: Comparisons were made for the six brands that passed  the microbiology  tests. Amul    Vanilla, Royale contained the highest fat at 12.9g  per 100g (approximately one serving). Interestingly, Vadilal Vanilla Classic had the highest sugar but the lowest fat.  Baskin-Robbins had the lowest sugar. It is difficult for us to tell you  which  brand  to  choose,  but  as a thumb rule  consumers who are diabetic should go for Baskin-Robbins while those who have high cholesterol should pick Vadilal.