Keen on namkeens? Regular consumption could harm your health
   
15 brands tested; alarmingly high levels of fat and sodium found in many
Salty, spicy and tangy, namkeens satisfy your palate and subdue hunger pangs. However, these snacks are high in salt, as the name suggests. Also, many ingredients are deep fried making them high in fat as well. Their limited nutritional value does in no way make up for these two unhealthy factors.
We tested five brands each of three categories of namkeens – sev bhujia, moong dal and mixture – for two nutritional parameters: (i) total fat content and (ii) sodium content. Our tests found that many brands had unacceptably high levels of fat and sodium. Some brands made irresponsible claims on their packets which could mislead consumers. Many brands did not mention amount of salt/sodium in their products.
Key findings
High sodium content
There is no mention of the limit for sodium or salt in the voluntary standard of Bureau of Indian Standards (BIS), 'IS 15271: 2003 Namkeen – Specification'. According to the UK Food Standard Agency (FSA), sodium content of more than 550mg/100g of a product is high. Many of the namkeen brands fall in the high sodium category. A comparison between the three types of namkeens reveals that sev bhujia had the highest amount of sodium.
As per the National Institute of Nutrition (NIN), Hyderabad, the Recommended Daily Allowance (RDA) for adults is 2400mg of sodium. This means that a 100g packet of Gwalia Bikaneri Bhujia (with sodium content of 1242mg/100g) contains more than 50% of the RDA!
High fat content
As per the Indian Standard, fat content of namkeens should not be more than 45% by mass. According to the UK FSA, more than 20g/100g (>20%) is a high level of fat. Why is the Indian Standard so liberal as compared to international norms? Fourteen of the 15 namkeen brands fall in the high fat category as per the UK norm! A comparison between the three types of namkeens reveals that sev bhujia had the highest amount of fat.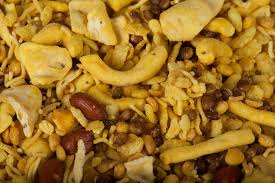 Your diet should contain about 30-50g/day of fat as per NIN. That means that one 100g packet of Parle Namkeen Bhujia Sev (with fat content of 44.8g/100g) contains more than 99% of the fat that you should consume in a whole day!
Best Buys
Our Best Buys, in the three categories, were decided on the basis of Overall Score and Price. In the sev bhujia category, Tasty Treat Bhujia Sev is our best buy and among moong dal brands it is Balaji Namkeen Mung Dal. As for mixture, Tasty Treat Khatta Meetha is the best buy.

 Notes:
1The Overall Score was calculated by giving the following weightages – Fat content – 50%, Sodium content – 50%
2 Price/100g calculated from MRP and rounded off
3 High sodium content implies high salt content. Sodium is the harmful component of salt.
3 and 4For fat and sodium lesser value is better
 Claims vs facts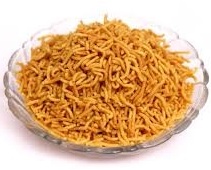 Gwalia Bikaneri Bhujia claimed to be 'Good for health' though both fat and sodium levels were high. Our tests found a higher level of sodium than the label claim in both Gwalia Bikaneri Bhujia and Haldiram's Bhujia Sev.
Tasty Treat Bhujia Sev, Tasty Treat Moong Dal and Tasty Treat Khatta Meetha made irresponsible statements on the labels that encouraged excessive consumption and go against the basic tenets of healthy eating. Balaji Namkeen Mung Dal blatantly targeted children as consumers which is unethical.
Manufacturers' response
At the time of going to press, we had received only Haldiram's response: "We test our products in NABL and FSSAI approved laboratories. The small difference in fat content may be because all the products are manually fried and then blended. Regarding sodium content, we will check with the lab concerned. Thank you for giving us information about the UK FSA norms. We will work on those lines. However, you know that Indians eat more salt."
 Areas of Action
Mandatory standards for fat and sodium in namkeens should be set at the earliest.
FSSAI has formed an expert group to advise it on dietary intake of salt, sugar and fat. The expert group should expedite decisions on this urgent matter.
Manufacturers should mandatorily declare salt/sodium content and reduce the level of fat and sodium in their products.
Our conclusion
Namkeens are by their very nature high in salt and fat. Fat or edible oil is used for frying purpose in the preparation of namkeens and salt is added for taste. However, excess fat and sodium in food consumed is harmful for health. Namkeens are usually eaten by choice for taste.  Consumers should choose variants which are less unhealthy (contain less fat and salt). Also, regular consumption should be restricted.
Recently, beverage and snack food giant PepsiCo's Chairman and CEO Indra Nooyi announced that at least 75% of its food products will have no more than 1.1 grams of saturated fat, per 100 calories, and no more than 1.3 milligrams of sodium per calorie by 2025. It is time Indian manufacturers also take similar action.