January-20: CERS MEDIATES
Posted by

CERC India

Posted in

JANUARY
Firm agrees to relocate solar panels   

  
Green energy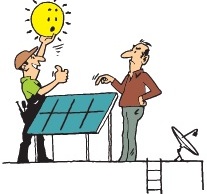 Deepak Shukla decided to go environment friendly and also save money on electricity by installing solar panels at his home. He approached Zodiac Energy Ltd. for this purpose. Company technicians inspected the site to determine the height and angle of the panels.  However, after installation Deepak found that because of the shadow of a cabin, the panels did not work in the later part of the day. Also, the inverter was installed in the open where water could damage it during rains.
He brought this to the notice of the company and requested them to rectify the positions. When his attempts did not yield results, Deepak contacted Consumer Education and Research Society (CERS). The NGO arranged for a meeting between the two parties. It was able to convince Zodiac Energy Ltd. to relocate the solar panels to a position that would generate optimum energy and also shift the inverter to a covered cabin.
Optimum location   
Before you install solar panels:

 
Consider the availability of sunlight throughout the year and the area available on the rooftop.
The orientation of the rooftop towards the sun is important.
Ensure that the panels are installed in a way such that no shadow hinders the exposure of the solar panels to sunlight.
IFB replaces defective washing machine 
Problems galore
Samir Patel purchased an IFB washing machine with a two-year warranty. In the second year, the machine developed problems. The tub stopped rotating. In six months, he had to get it repaired four times. Every time the technician would repair the tub and the machine would work for a few days. Finally, the technician did a thorough check and found that the gear box needed to be replaced.
Samir placed a complaint for replacement of gear box but the company did not respond even after 15 days. Whenever he called the customer care numbers, he got the message that the numbers were invalid. Fed up, he decided to get a refund for the machine and buy a new machine from another company. He wrote to CERS for help. CERS persuaded IFB to resolve the matter amicably. In less than 15 days, IFB offered to give an upgraded machine where Samir had to pay a difference of Rs 7,700. He agreed to the offer and got a new machine.
Swift solution
---
Remember
Keep your warranty and guarantee cards safe along with the bill of purchase. Keep a detailed record of all the repairs and also file copies the job sheets.
---