I-T dept launches facility to link Aadhaar with PAN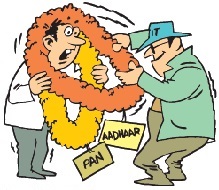 The Income Tax department has launched a new e-facility to link a person's Aadhaar with the Permanent Account Number (PAN), a mandatory procedure for filing I-T returns now. The rule is aimed at tax evaders who hold multiple PAN cards to escape paying tax.
There is no need to login or be registered on the e-filing website of the I-T department. The department's e-filing website https:// incometaxindiaefiling.gov.in has created a new link on its homepage making it easy to link the two unique identities of an individual. The link requires a person to punch in his PAN number, Aadhaar number and the exact name as given in the Aadhaar card.
After verification from the UIDAI (Unique Identification Authority of India), the linking will be confirmed. People have been advised to ensure that the date of birth and gender in PAN and Aadhaar are exactly the same.
Aadhaar mandatory for mobile phone verification
The Department of Telecommunications (DoT) has directed telecom firms to use Aadhaar as a KYC document for subscriber verification while handing out new prepaid and postpaid mobile phone connections.
All mobile phone service providers will also have to reverify existing customers, prepaid and postpaid, using their unique Aadhaar identity number and biometric details. Any unverified mobile phone number, or any number that is not linked to Aadhaar, will be illegal after 6 February 2018. The move to link mobile phone connections to Aadhaar, comes after the Supreme Court said in February that all phone numbers in India should have verified users.
ASCI Â lays down rules on celebrity endorsements
From now on, celebrities will be held responsible for the claims made in advertisements in which they appear. As per the new guidelines issued by the Advertising Standards Council of India (ASCI), it is the duty of the advertiser and the advertising agency to ensure that celebrities are aware about the ASCI code.
ASCI says celebrities should do due diligence to ensure that all description, claims, comparisons made in the advertisements they endorse are not misleading or deceptive. Products that claim to change skin colour and pan masala advts are among those expected to run into trouble with ASCI.