July 17: SETTLED IN COURT
HDFC Bank pulled up for not honouring bearer cheque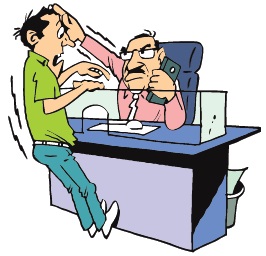 Prakash Sheth required Rs. 3 lakh to be deposited in the hospital for treatment of his ailing mother. He requested his nephew Chirag for the money. Chirag gave a bearer cheque to Prakash, who then presented it at HDFC Bank. The cashier asked for his photo ID, which he was not carrying. The cashier and the branch manager both called up Chirag to verify that he had issued the cheque. Despite Chirag confirming this, the bank refused to honour the cheque.
Aggrieved, Prakash filed a case in a Mumbai District Forum. The Forum dismissed his complaint saying the bank had rightfully followed Reserve Bank of India (RBI) guidelines. RBI had cautioned banks to insist on verification of ID and address while encashing bearer cheques if the amount exceeded Rs. 50,000. Prakash'sappeal to the State Commission was similarly dismissed. He then approached the National Commission.
Verdict
The National Commission declared HDFC Bank's stance in not honouring the cheque as deficiency of service and asked it to pay compensation of Rs. 10,000 to Prakash for harassment and humiliation.
A victorious Prakash said: "Most banks harass such non-account holders who come with bearer cheques. Mine was perhaps the first challenge before a legal forum."
Point of law
When a bank has verified with the person who has issued a high value bearer cheque, refusal to honour the cheque amounts to harassment.
[Source: The order of the National Consumer Disputes Redressal Commission, New Delhi, dated 15 March 2017 on Revision Petition No. 2897 of 2016]
United India dodges claim wrongly citing exclusion clause
Khusboo Shah and her family were covered under the Group Mediclaim Policy of United Insurance Co. Ltd. Her father was admitted to Indus Hospital in Ahmedabad and operated for an ulcer on the tongue. Thereafter, she lodged a claim of Rs. 1,63,409 submitting all necessary documents to Raksha TPA Pvt. Ltd.
She received an email that the patient had the habit of tobacco chewing since long which had led to the present ailment. Hence, the claim was not payable under Clause 4.8 of the policy's terms and conditions. Khusboo sent an email along with a doctor's certificate which stated that her father had to be operated for an ulcer, caused by a cut on tongue during chewing, that had not healed for a month.
When there was no response from the insurer, she contacted Consumer Education and Research Society (CERS), Ahmedabad and a complaint was filed in the District Forum. Kushboo stated that Clause 4.8 excluded intentional self-injury and use of intoxicating substances like drugs/alcohol. But chewing tobacco was not part of this exclusion clause.
Verdict
The Forum allowed Khusboo's complaint. It observed that the insurance company could not prove that Khusboo's father chewed tobacco or that the ulcer was because of tobacco chewing. As such, Clause 4.8 had been wrongly interpreted by the insurance company which amounted to unfair trade practice. It ordered United India to pay her Rs. 1.4 lakh with 9% interest. The insurance company was also told to pay Rs. 3,000 as compensation for harassment and Rs. 2,000 towards costs.
Point of law
Insurer cannot decline payment by incorrectly interpreting exclusion clause.
[Source: The order of the Consumer Disputes Redressal Forum, Ahmedabad dated 28 February 2017 on Complaint No. 51/2016]