13 questions to ask yourself before replacing an appliance
A thumb rule is to replace an appliance if repairing it costs at least half as much as buying a new one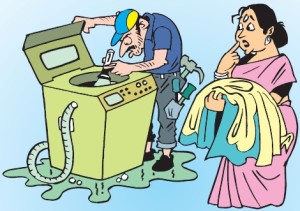 Does your washing machine make a lot of noise while in use? Is a burner in your gas oven not lighting up properly? Is ice building up in your frost-free freezer because of a failed sensor? It's a hassle whenever an appliance at home breaks down or does not function optimally.
A repair costs time, money and good deal of trouble. You may be tempted to just replace your appliance to save yourself the hassle. But is that wise? When should you go for repair and when a replacement?
There are two good reasons to repair things when they break down or don't function properly. It's usually cheaper to repair an item. Secondly, repairing is also less wasteful than replacing. What you dispose of will occupy space in a landfill. And, the new product also uses up new materials and energy to manufacture.
Replacing a run-down item has its advantages too. A brand-new item will look and work better. The problem in the repaired appliance may recur or it may develop some other problem. Again, an old appliance may not be energy efficient. If you are style conscious, you may prefer replacing your old appliance with a trendy new one. Last but not the least, replacing an appliance is much less trouble.
VITAL QUESTIONS
Before you decide whether to repair or replace your problematic appliance, ask yourself the following questions:
How do the costs compare? Sometimes even a complicated and expensive repair is worth doing. For instance, you cannot buy a new car, considering how costly cars are, every time it is in need of repair. In contrast, a broken smartphone may be so expensive to repair that it may be better to buy a new one.
When balancing the costs of repairing or replacing an item, experts often use the "50% Rule." If repairing your old item costs at least half as much as buying a new one, you should just go ahead and replace it. If your gadget has already been repaired once, Consumer Reports says even 49% may be too much to spend on fixing it again. When the same item has broken down before, it's a sign that it is not reliable.
Is your appliance still under warranty? If the item is still under warranty, the repairs don't cost you money. You can stay patient and hope for the best.
What is the extent of the problem? This is an important factor to consider while making the decision to repair or replace. If it is a minor problem your appliance may work well and for long after repair.
How hard is it to repair? Some appliances have special parts that are not just expensive to replace but hard to find. The parts for an old model may not be available. Calling the customer service department of the company is not an easy task requiring time and patience. On the other hand, you don't know whether an unauthorized repair centre will do a good job.
Then comes the time involved in waiting for the repair man who may reschedule the visit a couple of times. Again, the technician may be unable to resolve the problem which could prove very frustrating.
How old is the appliance? If your appliance is on its last legs and close to its average life expectancy (See table), there is not much point in spending money to extend its life. 
Sources: HouseLogic, www.mrappliance.com,www.atdhomeinspection.com,www.searshomeservices.com,wikipedia 
Have you had trouble before? If your appliance has always worked well, it might be worth fixing. However, if it has broken down repeatedly, creating several repair bills over the last few years, it may be time to consider a replacement.
Do you need a more energy-efficient appliance? Old appliances often cost more to run than new ones because they are not as energy efficient. If this is the case, go for a replacement and buy a new model with a high energy-efficiency rating. You can check the ratings given by the Indian Bureau of Energy Efficiency (BEE).
Could better maintenance extend the life of your appliance? After a repair, if you follow maintenance tips you can prolong the life of the item. For instance, if you start periodically cleaning your refrigerator condenser coils to remove dust and other debris it will not only improve performance but make your refrigerator last longer. Similarly, not overloading your washing machine will extend its life.
Are you attached to the appliance? If the item that's broken down is something you truly love, then a new one can never replace it. You might wish to hang on to an appliance that has sentimental value for you.
How much d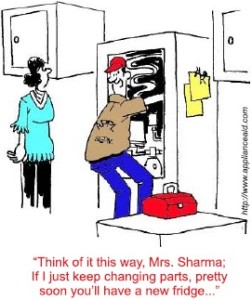 o style trends matter to you? Style preference is a totally personal aspect while determining when to replace appliances. For instance, if you want a uniform look in your kitchen, you may replace an appliance that has broken down to match the rest of the décor.
Would a new appliance have additional features? If this is the case it may be worth buying a new appliance.
Will the value of your old appliance increase? Most appliances lose value as they grow older. Except if they are antiques or collectibles. If your defective item is an antique – or something that might one day become an antique – it is worth spending money on its repair.
Is there a disposal cost? At times, the cost of replacing an item doesn't end when you buy a new one at the store – you may have to pay to dispose of the old one. For example, you may have to pay extra to put out bulky items (such as appliances) for trash pickup.
Nearly everything breaks down sooner or later, so it's best to buy a product that's easy to repair. For instance, when you buy an appliance, make sure that it's easy to find parts for it. Also, build up an emergency fund so that an appliance repair or replacement does not catch you by surprise.
Sources: www.moneycrashers.com, www.discover.com, www.angieslist.com