Posted by

CERC India

Posted in

July
Rupayzon.com refunds amount for wrong delivery
Different product 
Pradip Mendhe had ordered an Apple watch from Rupayzon.com, costing Rs. 10,999. To his disappointment and distress, he received a Life Smart Sports Watch instead. He wrote to the portal about the wrong product received. He also mentioned that if the matter is not taken up within 15 days then it will be handled by Consumer Education and Research Society (CERS), Ahmedabad.
Since there was no satisfactory response from Rupayzon.com, CERS intervened in the matter. The consumer organization was successful in getting the full amount of Rs. 11,000 refunded to Pradip Mendhe in one month.
Justice delivered
"Receipt of wrong products during online shopping is a common complaint in India but due to lack of support most matters are just forgotten and the loss is borne by the consumer. It is good that CERC is fighting on behalf of the people." – Pradip Mendhe
SBI clears long pending cheque
Bank negligent
Sonalben Prajapati had deposi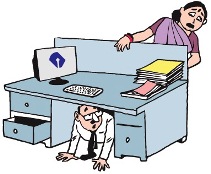 ted a cheque worth Rs. 2,99,531 in SBI, written by the Post Office, dating 26/11/18. When the amount was not credited in her account even after a month, she wrote to the bank manager. On receiving no response, she wrote to him again on 19/01/19 saying that she had lost hope and intended to take the matter to CERS.
CERS contacted the manager and was shocked to know that the bank had misplaced the cheque. CERS pursued the manager who then took initiative and requested the Post Office to issue a duplicate cheque. Sonalben finally received the amount of Rs. 2,99,531 in her account in March 2019 along with an interest of 4%.
Delayed response
Remember
Always keep the counterfoil of all the cheques deposited by you. Counterfoils are important to retrieve details of the cheque in case it is misplaced.