July-19: SETTLED IN COURT
Posted by

CERC India

Posted in

July
RERA does not bar filing case under CPA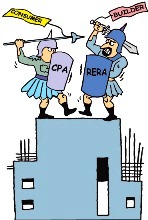 The National Consumer Disputes Redressal Commission (NCDRC) has held that Real Estate (Regulation and Development) Act 2016 (RERA) does not bar filing of a complaint under the Consumer Protection Act 1986 (CPA) against a builder/developer.
The commission was dealing with a batch of complaints filed by homebuyers for compensation from Today Homes & Infrastructure Pvt. Ltd. for not delivering possession of flats within the stipulated time.
The builder/developer objected on two grounds:
After the commencement of RERA, consumer complaint was not maintainable, as Section 79 of RERA bars jurisdiction of civil courts
The arbitration clause in the agreements with buyers excluded jurisdiction of a consumer forum.
Verdict
Rejecting these objections, the commission held that CPA was a special enactment, which provided a special remedy to an aggrieved consumer. The authorities under CPA cannot be regarded as "civil courts" and hence Section 79 of RERA did not apply.
The commission observed that both the CPA and RERA were "supplemental" to each other and there is no provision in the CPA which is inconsistent with the provisions of RERA. Moreover, according to the commission, an arbitration agreement does not bar a consumer complaint.
Point of Law
CPA is a special enactment that provides special remedy to aggrieved consumers
[Source: The order of the National Consumer Disputes Redressal Commission, New Delhi dated 15 April 2019 on a batch of complaints]
Bata fined for asking customer to pay for carry bag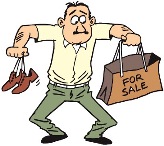 Chandigarh resident Dinesh Raturi purchased a pair of shoes from a Bata store. The store charged him Rs. 402, which included Rs. 3 charge for a paper bag. Dinesh felt that not only was Bata charging him for the bag, it was also endorsing its brand on the bag.
He approached the District Forum with a complaint. Bata India Ltd. contended that for the purpose of environmental safety, the complainant was given a paper carry bag at the cost of Rs. 3.
The forum said compelling a customer to pay for a paper bag was a clear deficiency in service. It was the store's duty to provide a free bag to the customer. The forum observed that if companies were really worried about the environment, they should provide environment-friendly bags for free to their customers.
Verdict
Bata India Ltd. was told to refund Rs. 3 to the complainant and pay Rs. 3,000 as compensation and Rs. 1,000 towards litigation expenses to him. In addition, the forum directed it to deposit Rs. 5,000 in the legal aid account of the State Consumer Disputes Redressal Commission. The company was also directed to provide free paper bags to its customers in future.
Point of Law
It is a store's duty to provide a free carry bag to a customer who has purchased a product
[Source: The order of the District Consumer Disputes Redressal Forum-I, Chandigarh dated 9 April 2019 on Consumer Complaint No. CC/64/2019]
Did you know
In a relevant order, a consumer forum has held that if an individual has lost the original bills but can provide the duplicate bills, mediclaim cannot be rejected by an insurance company.