June.17: ENVIRONMENT SNIPPETS
Airlines to pay Rs. 50,000 for emptying toilet mid-air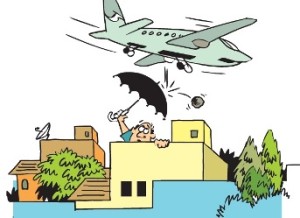 The National Green Tribunal (NGT) has directed airlines not to empty their toilet tanks mid-flight or while landing. Those found to be violating the rules will have to pay a fine of Rs. 50,000. The amount will be deposited with the Central Pollution Control Board (CPCB) to be used for environmental protection.
NGT has told the Directorate General of Civil Aviation (DGCA) to ensure that aircraft be subject to surprise checks on landing to see that human waste tanks are not empty. DGCA was also asked to set up a helpline for such complaints.
E-Waste rising dangerously in Asia: UN Study
Electronic waste is rising sharply across Asia as higher incomes are enabling people to buy more smartphones, computers, refrigerators and televisions, according to a United Nations (UN) study. The 63% jump in e-waste in Asia in five years has serious consequences for human health and the environment.
Improper e-waste dumping means increased exposure to extremely toxic chemicals. The UN has warned of a need for countries to improve recycling and disposal methods. China (especially Hong Kong), Singapore and Taiwan were big e-waste dumpers, as per the study.
How we shop hurts endangered species
The global supply chain of manufactured goods – from iPhones to Ikea furniture – can contribute to wildlife decline, according to new research published in Nature Ecology and Evolution. It reveals that goods exported to the US, China, Japan and the European Union harm wildlife the most.
The threats include destroying habitats, pollution and urban development. To procure beans for coffee or tofu, forests have been cleared in Sumatra, Indonesia and Brazil. Timber harvested in Malaysia, and exported mainly to the EU and China, has robbed the Asian elephant, the greater spotted eagle and the Sun bear of habitat. In fact, the Earth has entered a 'mass extinction event' in which animals and plants are disappearing up to 1,000 times more quickly than just a few centuries ago, according to scientists.