Posted by

CERC India

Posted in

JUNE
Joyalukkas replaces faded jewellery 
Glitter lost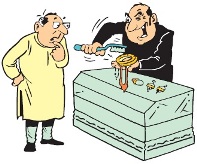 Hasmukh Barot bought jewellery worth Rs. 3,24,063 from Joyalukkas in November 2013. After it was worn once, the jewellery was put in a bank locker, only to be taken out after four years. When the jewellery box was opened after four years, it was found that the colour of the jewellery had faded. Hasmukh went to the shop and showed them the jewellery. The staff said they would polish the jewellery for him which would take a couple of days. After two months, he was asked to pay Rs. 6,000 and collect the jewellery.
When he went to collect it, he felt that the jewellery weighed less than the original. On checking, he was shocked to find that the jewellery weighed less by around 6 gm. He demanded that the company should either give him the original set or pay him the difference based on the price of gold at the current rate. Since he did not get a positive response from Joyalukkas, he approached Consumer Education and Research Society (CERS), Ahmedabad. CERS wrote to the company and persuaded it to resolve the matter. The company agreed to let Hasmukh buy a new set of jewellery in exchange for the earlier one.
Matter of weight 
---
Remember
No matter how trusted a jewellery brand or a jeweller is, always insist on a bill with details of hallmark number, gross weight, net weight, making charges and gold price at the time of purchase. Preserve this document for any future complaint.  
---
Gili satisfactorily repairs diamond ring
Defective ring
Ketan Shah purchased a diamond ring for Rs. 8,167 with lifetime buyback guarantee from Gili's authorized outlet. Diamonds from the ring kept falling off during regular use and Ketan had to repeatedly go to the Gili outlet to get it fixed. After six such instances, Ketan went to return the ring and get the buyback money.  He was told that his cheque would be ready in a few days. However, despite regular follow-up he did not get his money even after two years.
Finally, he decided to get help from CERS. After CERS's intervention, Gili responded that it would pay Rs. 1,175 as buyback for the ring after deducting money for diamonds that had fallen off. This was not acceptable to Ketan. So CERS continued persuading Gili to resolve the matter amicably. The efforts bore fruit, as Ketan got his ring satisfactorily repaired by Gili.
Money's worth
---
Tips
Always preserve the bill copy along with the warranty card/purity certificate

If you ever have to give your jewellery for repair or adjustment, ensure to get a job card. Keep a record of all repairs done.
---