Posted by

CERC India

Posted in

March
CERC restrains film stars from featuring in misleading advts
Advertisers fail to submit evidence that film stars agree with claims made in advts
Javed Akhtar convinces you that Dr. Ortho ayurvedic oil and capsules is an "unmatched" medicine for joint pain. Deepika Padukone makes you believe that Kellogg's Special K is indeed a nourishing breakfast packed with protein and fibre that helps manage weight. Have you ever wondered whether Javed Akhtar has ever used Dr. Ortho oil? Or, whether Deepika Padukone regularly eats Kellogg's Special K?
Celebrity endorsements are a thorny issue today. When a prominent public figure endorses a product or service (for a substantial fee) it influences consumers to buy the product or avail the service. The celebrities may be from the fields of entertainment or sports or well-known doctors, authors, activists or educationists. In India celebrity endorsements are the backbone of the endorsement industry. According to Duff & Phelps, the premier global valuation and corporate finance advisor, the total value of the top 15 brands endorsed by celebrities in India is reportedly worth over US $ 691 million (Rs. 4,597 crore).
CERC action
One of the major recommendations in the Consumer Protection Bill awaiting Parliament nod is stringent action against celebrities who feature in misleading advts. Recently, CERC did its bit to curb irresponsible celebrity endorsements. It complained to the Advertising Standards Council of India (ASCI) which has come out with guidelines for celebrity endorsements. The successful outcomes of four complaints upheld by ASCI are described below:
Kellogg's Special K endorsed by Deepika Padukone:  Claims that the product was high in protein and fibre were found to be false and misleading. The Consumer Complaints Council (CCC) of ASCI observed that the advertiser was not able to submit any evidence that the celebrity was in agreement with the claims being made in the television commercial (TVC) in general, and where she claims this to be her experience in particular. The visual of the celebrity when seen in conjunction with the claims are likely to mislead consumers regarding product efficacy. The advertiser sought an independent review process on the ASCI decision.
Nutricharge S&F and Nutricharge Glychem endorsed by Amitabh Bachchan and Sania Mirza: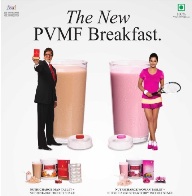 The claim regarding Nutricharge S&F that it was "clinically proven to reduce fat and central obesity in men and women" was inadequately substantiated and misleading by gross exaggeration. In the case of Nutricharge Glychem, the CCC observed that the advertiser did not provide any evidence in support of the approved product formulation and clinical evidence of its effect on pre-diabetics. Moreover, the advertiser did not prove that the video testimonial was genuine and not paid for. The CCC noted that in both cases there were no endorsement statements by the celebrities themselves but the website contained images of the celebrities. It observed that when seen in conjunction with the unsubstantiated claims, these "tacit" endorsements were likely to mislead consumers regarding product efficacy.
Dr. Otho endorsed by Javed Akhtar: Upon viewing the print advertisement, and in the absence of any comments from the advertiser, the CCC concluded that the claim of "getting rid of joint pain by using Dr. Ortho capsules" was entirely unsubstantiated and misleading by gross exaggeration. The advertiser had not submitted any authentic data, nor substantiated with clinical evidence the efficacy of Dr. Ortho capsules in curing joint pain.
Kesh King endorsed by Juhi Chawla: The claim "no hair fall, dandruff or dryness" and several others were considered unsubstantiated and misleading. The CCC noted that there was no information or evidence submitted by the advertiser to show that the celebrity concerned has had "adequate information about, or experience with the product or service being advertised". In view of this and in the absence of any document submitted by the advertiser in support of the apparent commendation given by the celebrity, the CCC concluded that this claim in the advertisement contravened the guidelines.
ASCI guidelines
ASCI has developed 'Guidelines for Celebrities in Advertising'. The purpose is to discourage advertisers from bringing out misleading advts and celebrities from endorsing the products or services in such advts. The guidelines will protect the interests of consumers, especially for products or services which can cause serious financial loss or physical harm.
Genuine opinion: Celebrities are expected to have adequate knowledge of the ASCI code. Testimonials, endorsements or representations of opinions or preference of celebrities must reflect genuine, reasonably current opinion of the individual(s) making such representations, and must be based upon adequate information about or experience with the product or service being advertised.
Due diligence: Celebrities should do due diligence to ensure that all description, claims and comparisons made in the advertisements they appear in or endorse are capable of being objectively ascertained and capable of substantiation and should not mislead or appear deceptive.
Within the law: Celebrities should not participate in the advertisement of a product or treatment that is prohibited for advertising under the Drugs and Magic Remedies (Objectionable Advertisements) Act 1954 or Drugs & Cosmetics Act 1940 and rules 1945 – Schedule J. They should not endorse products that require a health warning on the packaging or advertisement.
Onus on celebrities
One argument put forward in support of celebrities is that how can they test the product they endorse? Bollywood actor and youth icon Ajay Devgn has endorsed Vimal Pan Masala. This product comes with a health warning that it is injurious to health. Did Mr. Devgn need a technical report to understand what kind of product he was endorsing? Again, when a celebrity endorses a fairness cream, is it not her responsibility to check it out either by using it herself or by consulting users about the efficacy and safety of the product? If the celeb is hesitant to use the product on herself, is it morally right to endorse such products? If only film stars scrutinized endorsements the same way they do a script and contract terms before signing a movie!
Film stars should remember that in advts they are not playing characters in films, they are playing themselves. They have a large fan following and high credibility among consumers. They strongly influence consumer choices. Across the world, authorities believe celebrities should be held liable if they influence consumers into making harmful choices. It's vital that they are aware of their power and make responsible claims to promote products or services. It is time that the Indian film industry accepts responsibility.