Posted by

CERC India

Posted in

March
Beware of these phone scams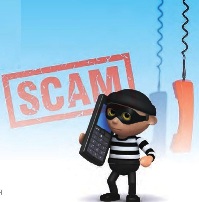 Phone scams are increasingly becoming a menace. Typically, fraudsters try to call members of the public pretending to be from a trusted organisation – like a bank, the income tax department, the police, a utility provider or a computer company. They then try to get personal or financial information in devious ways so that they can trick people out of money. Here are some of the scams to watch out for:
Can you hear me?: If you receive a call and immediately hear the phrase "Can you hear me?," hang up. The caller records the victim saying "yes", which they later use as a voice signature to authorize fraudulent transactions via telephone.
Unfamiliar number: Never answer or return a call from a number you don't recognize, especially if it has an international area code. However, scamsters may spoof phone numbers to make them look familiar to you.
One ring: If the caller hangs up after one ring, don't call back.
I-T dept: Even if the caller, who pretends to be from the income tax department, doesn't ask for money, he could get vital information by asking you to verify your identity.
Bank: If your bank calls and asks you to confirm if a transaction is legitimate, say yes or no. But don't give any more information.
Smishing: You may get a text, supposedly from your bank, claiming that your debit card has been used to make a purchase. If you do not recognize the transaction, you will be asked to call a number to report the fraud.
Tech support: You may get a call from a computer company saying your computer has a virus. The fraudster then takes control of your computer to 'fix' the problem, but instead installs software which steals your data.
Grandparent: Scamsters sometimes target elderly people, pretending to be a grandchild. The person on the phone will say he is in trouble and needs you to send money.
Lucky winner: If the caller says you have won a big cash prize or amazing vacation, don't get carried away and reveal your personal details.
Sources: www.rd.com, www.familyhandyman.com, www.financialfraudaction.org.uk