Posted by

CERC India

Posted in

MARCH
Loose milk suppliers to be regulated
FSSAI scheme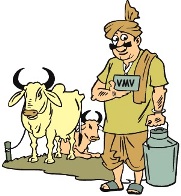 Loose milk supply is to come under the ambit of regulation in Gujarat. Unorganised milk suppliers, vendors and producers will now be regulated with the launch of the Food Safety and Standard Authority of India's (FSSAI) new 'Verified Milk Vendors Scheme'.
The vendors will be issued identity cards on registration under the new scheme. Based on the rollout in Gujarat, a similar scheme will be introduced nationwide. At present, only cooperative and registered private dairies come under the regulatory framework.
Safer milk
'One nation one ration card' to be a reality soon
Boon for migrants
The government's 'One Nation One Ration Card' initiative will come into force across the country from June 1, 2020, according to the Union Minister for Consumer Affairs, Food and Public Distribution, Mr. Ram Vilas Paswan. It will largely benefit migrant labourers and daily wagers who frequently move around the country in search of employment.
The government is also working on a 'One Nation One Standard' initiative to harmonise the standards set by the Bureau of Indian Standards (BIS). The consumer affairs ministry has asked BIS to come up with a plan to implement the initiative.
Harmonising standards
New norm for ACs from Jan 1, 2020
Default temperature
If you are planning to buy a new split or window air conditioner, there is a major development you should be aware of. As per new regulations set by the Bureau of Energy Efficiency (BEE) in consultation with the central government, the default temperature for all room ACs sold in India will be 24-degree Celsius.
The temperature can be reduced or increased as always. All AC models rated by BEE from 1 to 5 star will have to follow the 24-degree Celsius default temperature rule. According to estimates, increasing the temperature of a room by 1 degree Celsius can save about 6% of electricity. BEE claims its star labelling program helps reduce both energy consumption and carbon emissions.
 Saving power