Posted by

CERC India

Posted in

may-18
Eatery ordered to pay Rs. 10,000 for levying service charge
IPS officer Jai Jeet Singh went to Punjab Grill restaurant in Mumbai with his wife in August 2017. His bill included 10% service charge amounting to Rs. 181.50.  Dissatisfied with the food and service, Jai asked the restaurant to refund the service charge. The restaurant management refused, saying it was company policy to levy the charge.
Singh knew that this was illegal. He filed a complaint in the District Forum against the unfair trade practice. No one from the restaurant was present in court. Hence, an ex parte decision was given.
Verdict
The Forum ordered the restaurant to refund the service charge of Rs. 182 with 9% interest from date of filing of complaint till realization. The eatery also had to pay Rs. 5,000 compensation to Singh for mental harassment and Rs. 5,000 towards litigation costs.
Reacting to the verdict, Singh said he was fighting against the arrogance of restaurants that thought they could defy government directives with impunity.
Point of law
The consumer affairs minister, Mr. Ram Vilas Paswan, has declared that service charge on hotel and restaurant bills is "totally voluntary" and not mandatory.
[Source: The order of the District Consumer Disputes Redressal Forum, Central Mumbai, dated 23 November 2017 on Complaint case no.  CC/17/195]
ICICI Bank made to pay for lapse in SMS alerts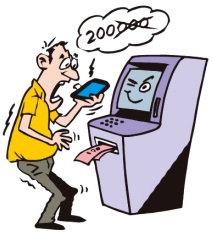 Karam Singh and his wife, residents of Panipat, had a joint savings account with ICICI Bank. They would regularly get SMS alerts about any transaction. The balance in their account on 20 November 2006 was over Rs. 2 lakh. No transaction was made by them between 21 November 2006 and 25 February 2007. To their shock, when they sought to withdraw money on 26 February 2007, the ATM machine showed a balance of only Rs. 203. The amount had been fraudulently withdrawn from their account and they had not received any message on their cell phone.
The couple lodged a complaint with the District Forum for deficiency in service. They wanted the bank to pay Rs. 2,07,368 to them as well as compensation of Rs. 2.5 lakh. The bank contended that as the debit card as well as the PIN was with the complainants the bank could not be held liable.
The Forum ordered the bank to pay Rs. 2,07,368 with 9% interest from the date of filing of complaint till realization and Rs. 2,200 towards litigation costs. The bank challenged the order in the Haryana State Commission which dismissed the appeal. The bank approached the National Commission.
Verdict
The National Commission observed that the bank did not have a proper explanation as to why no SMS alerts were sent during the period when the fraudulent withdrawal took place. Hence, it dismissed the bank's petition.
Point of law
If a client subscribes to SMS alerts, a bank is bound to send alerts for every transaction.
[Source: The order of the National Consumer Disputes Redressal Commission, New Delhi dated 27 October 2017 on Revision petition no.  3819 of /2011]