Posted by

CERC India

Posted in

may19
Soon, insurance to cover dental, infertility treatment
Minimising exclusions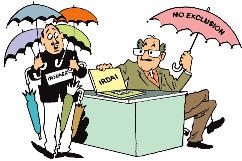 The Insurance Regulatory and Development Authority of India (IRDAI) has removed around 10 items from the list of "optional cover" for health insurance. These include dental procedures, hormone-replacement therapy and treatment for infertility, obesity, psychiatric disorders and HIV/AIDS.
These procedures are likely to be made part of standard insurance policies. Further, some of them could even be made mandatory. Earlier these items were optional and, therefore, were not covered by most insurers. Now, insurers can design products to include these items.
Consumer-friendly move
Govt. tightens norms for e-commerce firms
Revised FDI policy
The commerce and industry ministry has tightened the norms for e-commerce firms like Flipkart and Amazon. It has barred them from selling products of companies in which they have a stake.
The new norms also prohibit an e-commerce company from entering into an agreement with any seller for exclusive sale of products on its platform. These changes are part of an amended Foreign Direct Investment (FDI) policy on e-commerce.
Stricter rules