Vistara gives special treatment to women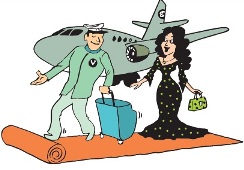 In a country where women travellers face many dangers, this airline has introduced a welcome service. With its Woman Flyer service, Vistara helps women flying solo with their bags and escorts them to and from their ground transportation. Moreover, the airline offers preferred window and aisle seats to women – no middle seats. It is believed to be the first airline to have such a service.
The service is a sincere effort to ensure peace of mind of women flyers, said airline officials. Vistara hopes to extend its new service for women to international flights once it expands outside India.
Misleading advts on ayurvedic products: TV channels warned 
The Information and Broadcasting (I&B) Ministry has issued an advisory that television channels airing advertisements making  'exaggerated' or improper claims on Ayurvedic products will invite action.
The advisory applies to all AYUSHÂ  – ayurvedic, siddha, unani and homeopathic – products and drugs. The advisory says that such misleading advts violate the Drugs and Magic Remedies (Objectionable Advertisements) Act of 1954, Drugs and Cosmetics Act of 1940, and Rules. The Ministry of AYUSH has warned that consumption of some of these products poses a potential health risk to consumers.
CERC had recently alerted the Food & Drug Control Administration (FDCA), Gujarat about 15 such advts in the vernacular media. FDCA issued show-cause notices to manufacturers in 13 cases.
TRAI cracks down on unsolicited investment advice
 The Telecom Regulatory Authority of India (TRAI) has issued a directive to service providers to ensure that only registered brokers, portfolio managers and merchant bankers are allowed to send SMSes with investment advice to their customers. The aim is to curb spam messages and unsolicited bulk SMSes on investment advice from unauthorized persons.
This move follows concerns raised by the Securities and Exchange Board of India (SEBI) over unscrupulous entities sending SMSes on investment advice for financial gains by manipulating the security market.