Beware of abnormally high discounts on products sold online
CERC survey reveals that e-commerce companies sell products at unbelievable discounts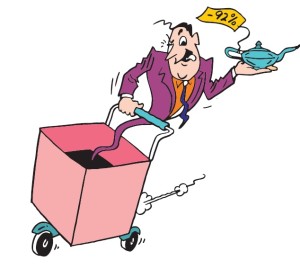 The festival season is here. Consumers are being tempted by 'Sale' signs all around.
Online shopping portals are even more tempting with offers of huge discounts and attractive deals. There are Sales every few months and during the festival season even two to three times a month. We decided to investigate how online portals are offering unbelievably huge discounts and deals.
CERC Survey
CERC did a quick online survey on personal care products and cosmetics sold on Snapdeal and compared with the same products sold on the e-portal Nykaa. Snapdeal is a major marketplace e-portal after Amazon and Flipkart for third party sellers. Nykaa is a popular online store for selling branded cosmetics and personal care products. We compared 25 product prices on Snapdeal with Nykaa. The criteria for selecting Nykaa is that it claims that unlike other online players, it only offers products that are 100% authentic and sourced directly from the brands or authorized distributors. They also claim to ensure complete quality control by controlling the entire value chain from product sourcing to final sale to ensure that no fake product is sold. Snapdeal on the other hand claims to have more than 300,000 sellers from across the world and says that anyone from a manufacturer to wholeseller to retailer can sell on Snapdeal.
Moreover, a survey conducted by LocalCircles found that one out of five products sold online are fake or counterfeit, with cosmetics and fragrances the most affected category. It also revealed that Snapdeal ships the highest percentage (37%) of counterfeit/fake products. [www.localcircles.com]
---
Nutshell
Highly inflated MRP and unbelievable discounts offered on e-shopping portals

CERC makes a representation to DCGI asking for urgent intervention
---
CERC action
CERC has written to the Drug Controller General of India (DCGI), asking for urgent intervention.  It has also sent the findings to the Ministry of Commerce and Industry and Department of Consumer Affairs, Government of India, to take steps in consumer interest.
Snapdeal was also advised of our findings and urged to take action to protect consumers. CERC also released a press note of the survey findings. In response, Snapdeal wrote to CERC and disclaimed any responsibility saying it has no knowledge about the genuineness of products sold as it did not hold inventory. Further it said that it had a Prohibited Seller Activities and Consequences Policy wherein sellers are expressly prohibited from selling counterfeit products. They also said that the sale contract was between buyer and seller who is wholly responsible for the quality of the product. In addition, it has an anti-counterfeiting program 'Brandshield' which works with brand owners to take down counterfeit listings from their portal. They alleged that our press note had made malicious insinuations and had the propensity to tarnish their reputation.
However, we disagree to this. Snapdeal should take responsibility and closely monitor and investigate those products where huge discounts are offered for parity with company prices.
Recently, the police has also registered a case against Snapdeal founders for cheating under section 420 of the Indian Penal Code after investigating a consumer complaint about fake Woodland belt and wallet delivered by Snapdeal
[ www.retail.economictimes.indiatimes.com]
CERC files case on Amazon
CERC has filed a class action suit against Amazon for sale of a fake product. The court has issued a notice to Amazon. Ms Pritee Shah, Chief General Manager, CERC purchased a pack of two Lakme Eyeconic Kajal from Amazon. It was found to be a fake, which was later confirmed by the manufacturer (HUL). Being a vigilant consumer, Ms Shah wanted Amazon to intimate the other buyers. Instead, Amazon sent a misleading message to the buyers offering a replacement without admitting that the product was a fake. Moreover, it did not take any legal action against the seller.
This prompted CERC to take the legal route. CERC has appealed to the court to order Amazon to recall Lakme Eyeconic Kajal and intimate the other buyers that the product is a fake. Amazon should also tender a public apology for supplying a spurious product and give a refund to the buyers.
What needs to be done
The government should take steps to ensure that ecommerce companies take responsibility of the genuineness of products sold by various sellers on their portals. They should have transparent public policy for vendor selection and a system of taking strict action on sellers violating their policy.
E-commerce companies should take certain steps like strict pre-vetting of vendors, random checks of products, review customer feedback, impose penalties on sellers who defraud customers, have a product recall policy and put a consumer alert system in place