November-19: Settled in court
HDFC Life ordered to pay insurance claim of Rs. 50 lakhs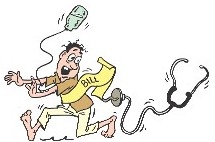 Pratap Singh took a Rs 50 lakh policy from HDFC Life on 5 December, 2008. Before issuing the policy, the insurer had subjected Singh to a medical examination which had reported him fit. Singh expired on  1 January, 2009. HDFC Life rejected the claim filed by his brother Virpal stating intentional non-disclosure of material facts.
Virpal filed a complaint before the Delhi State Commission. HDFC Life contended that Singh had not disclosed his pre-existing ailments. The State Commission overruled the objections and ordered Rs 50 lakh to be paid within two months.
HDFC Life appealed against this order. Based on earlier judgements, the National Commission interpreted that pre-existing disease means an ailment for which the insured is under treatment or has been hospitalised or undergone surgery near the date of policy. It also said that the burden to prove undeclared pre-existing disease was on the insurer, who was unable to substantiate the allegation with evidence.
Verdict

 
The National Commission dismissed the revision petition and ordered HDFC Life to settle the claim of Rs. 50 Lakh.
Point of Law
Burden of proving pre-existing disease is on insurer and mere allegation would not be sufficient to deny the claim.
[Source: The order of the National Consumer Disputes Redressal Commission, New Delhi, dated 19 July 2019 on First Appeal No. 855 of 2019]
Mercedes Benz asked to pay Rs. 2 lakh for defects in car
Prince Bansal purchased a Mercedes C220 CDI car for Rs. 37 lakhs. Within 18 days it started making noise. It was taken to workshop multiple times for repairs, but the problem persisted. Bansal got the car inspected. The report said that there was an inherent manufacturing defect in the vehicle which the manufacturer was unable to locate and rectify. Bansal filed a complaint seeking replacement of the car or refund of the purchase amount.
The company said that its liability was limited to repair/replacement of the defective parts during the warranty of three years, which it had done. Therefore there was no deficiency of service on its part.
The State Commission asked an independent experts report. According to it, there was a creaking noise coming from the rear door. Â The Commission directed the company to pay Rs.2 lacs as compensation alongwith Rs. 22,000 as legal costs. Not satisfied, the company appealed to the National Commission.
Verdict 
It was observed that the car had been giving trouble from the beginning and the problem still persisted. The compensation of Rs.2 lacs could not be said to excessive or unreasonable considering that it was a Mercedes car which was expected to run smoothly without giving trouble to the owner who had spent Rs.37 lacs for it. The appeal was found to be devoid of any merits, and was dismissed.
Point of Law 
If there are persistent problems in a car which are not satisfactorily repaired by the company, the complainant is entitled to claim a reasonable compensation for it 
[Source: The order of the National Consumer Disputes Redressal Commission, New Delhi, dated 30 May  2019 on First Appeal No. 830 of 2019]
---
Did You Know 
The National Commission gave hope to homebuyers seeking refund due to delay in getting possession of their homes. In a case of 20 homebuyers against Country Colonizers Pvt. Ltd., the apex consumer court asked the builder to refund homebuyers for delay with interest equal to home loan rate within four weeks. In addition, it was also asked to pay compensation for loss and mental agony and for legal costs. 
[Source: The order of the National Consumer Disputes Redressal Commission, New Delhi, dated 1 July 2019 on twenty First Appeals of 2017 and 2018 against orders of State Commission Punjab]
---