E-wallets – The new way to pay 

First, it was cash, then came the credit card, followed by internet banking and now it is e-wallets. Essentially, an e-wallet is a prepaid online account that helps you buy goods or hire services and do other transactions online without using your debit or credit card.
Most card users are concerned that someone can misuse their card details. E-wallets, with their inherent security features, reduce the risk considerably. You can stock money in an e-wallet to be used when required. A few popular e-wallets are PayTM, Mobikwik, Airtel Money, Freecharge and Oxigen.
How to use an e-wallet?
You can use e-wallets to make payments of your electricity bill, phone bill, mobile bill and even book tickets for a film or a flight. You can use the money for shopping online or to buy groceries.
Go to a site where an e-wallet is available. Sign in with your email ID. Create a new wallet for yourself. When buying something from the site, use your e-wallet to redeem as much cash as required. Transfer money to the account using online transfer or your debit/credit card.
Who offers e-wallets?
The competition in this area is growing. First, it was Google, then companies like Oxigen, and banks (ICICI Bank, Axis, and SBI) and telecom firms (Airtel and Vodafone). For instance, Airtel Money transforms the mobile phone into a convenient wallet. The digitised money can be used on several shopping sites. All one needs is an Airtel connection.
Now, many start-ups have begun operation in this area. Sometimes, even big shops and chains provide e-wallets to customers. E-commerce major Flipkart was one of the first few companies to start an e-wallet service in 2011.
In the case of a generic online e-wallet, once money is loaded, you can use it for any purpose. A company specific e-wallet (closed wallet) can't be used in any other shop or competing business. Although e-wallets are free for consumers, vendors charge merchants for facilitating transactions. 
Benefits
The sites where e-wallet services are available are very user-friendly. You don't have to enter your debit/credit card details for every online transaction. There is no credit history check or demand for numerous documents. You can deposit as low as Rs. 10 and pass on the benefits of your e-wallet to your friends and family members as well. There is no chance of the payment being declined since an e-wallet is a prepaid account.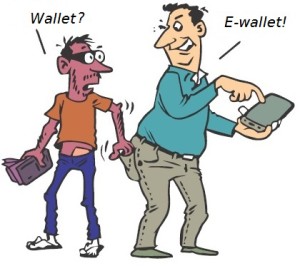 Disadvantages
Revealed passwords can lead to theft.
There is no facility of refund or interest as the amount is only redeemable against a purchase. Hence, it is not advisable to load an e-wallet with large amounts.
The concept is still evolving, with new players and new variants. Customers may experience teething problems.
E-wallets may not be accepted by some merchants.
The charges are higher compared to traditional payment services. It is advisable for users to research the charges involved before opting for an e-wallet.
5 popular e-wallet apps in India
Paytm: Apart from getting mobile recharges and paying utility bills it lets you transfer money, securely store money online and do payments on the go.
Oxigen: Every money transfer transaction on Oxigen Wallet is secured with an OTP (one time password) sent to your registered mobile number. The transfer can be made to any mobile phone number on any cellular network in India as well as to any bank account across India.
MobiKwik: MobiKwik is available for use at more than 50,000 online and offline avenues. It offers cash backs and discounts. All services of MobiKwik are available via a desktop site and a mobile app.
PayUmoney: The PayUMoney wallet empowers you to make online payment via credit cards, debit cards and netbanking. You also earn PayUMoney reward points for every transaction. A key feature offered is the 'PayUMoney Buyer Protection' that ensures you get the purchased product or service, else their dispute resolution team will sort it out with the concerned merchant.
Vodafone M-pesa: M-pesa claims to be a fast, secure and convenient way to transact on mobile. If you wish to transfer money using M-pesa app, all you have to do is enter the recipient's number, amount to be transferred, 4-digit secret pin and then press 'send'. The recipient of your money will get a SMS which he can show to the nearest M-pesa agent along with an ID proof in order to collect the money.
Despite some limitations, e-wallets are an exciting innovation in the financial world and do come in handy in specific situations where traditional payment mechanisms fall short.
Sources: www.economictimes.com, www.moneycontrol.com, www.caclubindia.com, www.ampercent.com, www.goodreturns.in