October-19: CONSUMER TIPS
10 Tips to reuse waste water from RO
Using a reverse osmosis (RO) water filteration system has brought us many conveniences. However, for every 1 liter of purified water, 3 liters of water are wasted. G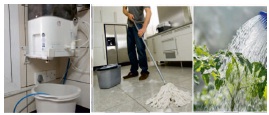 rahak Sathi brings you suggestions to reuse RO water.
Washing utensils

 – Collect the waste water from RO. It can be used to wash utensils or at least for soaking them before washing.

Cleaning vegetables and fruits

– You may wash your vegetables and fruits with the waste water from RO.

Mopping the floor

– RO waste water can be used to mop floors. If you are concerned about salt deposits, you may use this water only on alternate days.

Car washing

– Your car would need to be washed regularly. Why not use RO waste water for this purpose?

Washing clothes

– If you do not want to risk your good clothes, use this water either for soaking clothes before washing or to wash clothes like socks and home wear.

Gardening

– Test using the waste water from RO on your house plants and use it for the plants that react well to it.

Flushing toilets

– The RO waste water may not be very good to bathe or wash your hair with but you can certainly use the water to flush your toilets. Some houses have a separate tank for collecting the waste water from RO which is connected to the toilet flush.

Desert coolers

– Use this water for desert coolers to keep you cool in summers. You may need to regularly clean the pipes for any salt deposits.

Fountains or home decor

– If you use water for home décor like floating flowers or floating candles or small fountains then you may use waste water from RO for this purpose.

Cleaning your terrace, backyard

– Generally the terrace or backyard is made up of concrete, stone or tile, so using RO waste water for cleaning such surfaces will not result in salt stains.
Sources: www.bestwaterpurifierreview.in, www.thebetterindia.com, www.healthzonero.com,