CERS Projects
Misleading Advertisement
====================
Misleading, false and objectionable advertisements are a menace in India duping gullible consumers into making unwise choices. The National and more so the vernacular media is full of advts that are misleading–such as those based on astrology or black magic. Some claim to cure diabetes, cancer or obesity while others provide solution for hairloss, increasing height of a person aged between 10 and 40 years.
CERC has been actively working on the problem of misleading advertisements for the past several years. Recognizing our work in this vital area of Consumer Protection, Ministry of Consumer Affairs, Govt of India has assigned us a Project on Misleading Advertisements. The overall objective of the project is to curb the menace of misleading advertisements and move towards responsible advertising.
As a part of this project, we are conducting a consumer survey to understand the awareness of misleading advertisements among consumers, their experiences with misleading advertisements and action taken, if any.
We request you to kindly click on the link (https://goo.gl/zpfXPA) and send us your response to the survey. The survey will not take more than 15 minutes.
Should you need any further information/clarification, do write to us on enr@cercindia.org
Look forward to your participation.
---
Grahak Sathi
A National Consumer Magazine
for Widespread Awareness, Education and Protection
 From 'Consumer Confrontation' in the '80s to 'INSIGHT' in the '90s and now 'Grahak Sathi'. It has been a long journey of serving consumers, and being with them in times of need. The Ministry of Consumer Affairs, Government of India, is our partner in this journey. We are happy to have a Minister and Ministry whose heart beats for India's consumers. Why Hindi? Well, because we want to reach out to many more consumers.
'G
rahak Sathi' magazine will give you what it has always brought to you: information that can bring a change in your life. The Test Reports emerging from our Labs will continue to be the heart of the magazine to guide you on what product or service to buy, what not to buy and why, mentioning brand names without fear or prejudice. Our test findings on bottled water received wide national coverage and questions were raised in Parliament. Test findings on thermometers, electric bulbs, immersion heaters, baby products, irons, cosmetics and many other products have been published by us over the years. New Standards have been formulated or existing ones modified based on our test results. Our magazine will continue to play this important role of a watchdog.
Also included in 'Grahak Sathi' are cases of consumers which have been successfully mediated or litigated, to inspire you; health guides based on the latest research;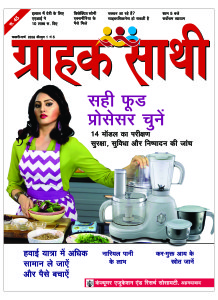 and 'Tall Talk' targeting false, objectionable and outright misleading advertisements. News and developments around the world, advocacy efforts on consumer issues with various Regulatory Authorities and easy to follow Tips on various issues will contribute to your smarter living.
We do not accept manufacturers' samples for testing. Objective scientific information is provided in the magazine.
The subscription rates are:
1 year subscription        Rs. 180 (6 issues)
2 years subscription     Rs. 330 (12 issues)
3 years subscription     Rs. 450 (18 issues)
To subscribe to 'Grahak Sathi', pay through cheque/DD or deposit the subscription amount as cash or online transfer in :
ICICI Bank
A/c no. 006401011427
(IFSC code: ICIC0000064).
Send us your address.
Write to us for any clarification at:
Editor
Grahak Sathi
Consumer Education and Research Society
`Suraksha Sankool', S.G. Highway, Thaltej
Ahmedabad – 380054
Phone: 079-27489945/46, 27438752-53-54
Email: cerc@cercindia.org
You could also download the Subscription Form from our website www.cercindia.org
With your help we want to reach out to many more consumers. Corporate Bulk-subscriptions are eligible CSR expenditures. We will regularly mail copies in India to addresses you want the copies sent to.
---
Consumer Club in Schools
The Consumer Club Project is very effective in reaching out to consumers at a young age and making them aware of their rights and responsibilities.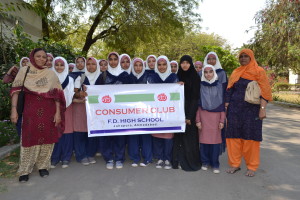 The Government of Gujarat has appointed VCOs of Gujarat to cover the schools in the State. The VCOs have opened Consumer Club in different schools and supported the schools in carrying out activities like poster exhibitions, essay competitions, drawing competitions, debates and street plays to make students aware about Consumer Protection.
The VCOs support schools in organizing special programmes in schools to mark 'World Consumer Rights Day' on 15 March and on 'National Consumer Rights Day' on 24 December.
CERC is currently running Consumer Clubs in 70 schools in Ahmedabad city. It organizes demonstrations on weights and measures and food adulteration and other consumer awareness programs in different schools to educate students.
---