Sept – 16: PUBLIC INTEREST
'Acche din' for flyers: Lower excess baggage charges
Refund process streamlined; hefty compensation for being denied boarding
Flyers in India have reason to cheer. The Central Government recently introduced extensive passenger-friendly changes in air travel rules. The changes, applicable to domestic and international flights involving Indian carriers, come in the wake of passenger complaints.
The government gave two weeks to stakeholders to submit their comments. CERC made several suggestions. One was that passenger rights and the grievance redressal mechanism available to them should be displayed prominently at airline booking offices, airports and on websites and also mentioned on tickets.
Highlights
Excess baggage: In case of check-in baggage, the airlines can only charge Rs. 100 a kg for baggage in excess of 15 kg and up to 20 kg. At present, airlines charge from Rs. 250 to Rs. 300 for every kg of baggage beyond the 15-kg limit. This rule has been applicable from 1 July 2016. 
 CERC suggestions:
 There should be a cap on charges above 20 kg also.
Clear guidelines should be issued providing for adequate compensation and easy procedures in cases of baggage delay, loss, theft or damage.
The rules pertaining to ticket cancellation, refund, flight delay or cancellation and cases of denial of boarding came into effect on 1 August 2016.
 Ticket cancellation: Under no circumstances can ticket cancellation charges be more than the basic fare plus fuel surcharge. Carriers also cannot levy additional charges to process refunds.
Airlines will have to refund all statutory taxes and user development fee, airport development fee, passenger service fee (PSF) to passengers in case of cancellation, non-utilisation of tickets or no-show. At present, airlines return the PSF on non-utilisation or cancellation of tickets. The refund on taxes and fees will be applicable for all types of fares, including promotional and special fares and even where the basic fare is non-refundable.
Refund process: The government refund process has been streamlined in the interest of consumers.
The onus of refund when tickets are booked through a travel agent or web portal will be on the carrier airline. Currently, passengers have to deal with their travel agent.
The refund process must be completed within 30 working days in case of both domestic and international travel.
Carriers would have to indicate in an "unambiguous manner" the amount of refund admissible on cancellation of a ticket.
The option of holding a refund amount in credit with the airline would be decided by the passenger.
Denial of boarding: At times, passengers are denied boarding on account of overbooking. In such cases, compensation up to Rs. 20,000 will be given subject to specific conditions. No compensat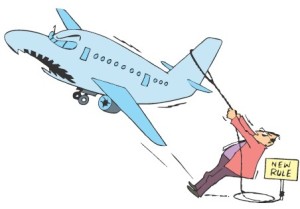 ion will be paid if the airline arranges an alternate flight that departs within one hour of the original departure time.
CERC suggestions:Â 
Airlines should not be allowed to give confirmed bookings to passengers in numbers more than the seats available. A system of waitlisted bookings could be put in place.
Even if a flight is arranged to depart within one hour of the original flight, passengers having connecting flights or other travel arrangements will be inconvenienced and may have to face financial loss. They should be given adequate compensation.
The weight of the hand baggage should be checked at the check-in counter. A passenger should not be denied boarding at the gate on account of excess hand baggage.
Flight cancellation: The compensation for flight cancellations announced within 24 hours of departure has been increased to up to Rs. 10,000.
Refund/compensation should be provided when delay/cancellation affects onward travel arrangements.
Airport authorities should be responsible for providing facilities to passengers if airline is not responsible for delay.
Facilities for disabled: Airlines should develop a procedure for making advance request for stretchers and those should be displayed on the airline's website. 
CERC suggestions:Â 
With regard to persons with disability or reduced mobility, clear responsibility should be assigned to airlines and/or airport authorities during the journey, especially when multiple flights and airlines are involved.
Along with provision of two window seats in the front row, other seats with more leg room should also be allocated and reserved for passengers with disability or reduced mobility.