Indian Railways gives refund for cancelled ticket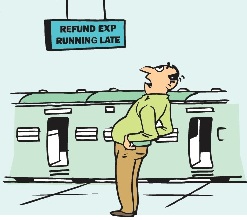 Surjeet Singh Bagga booked three train tickets from Ambala to Ahmedabad. He used the i-ticket facility, where you can book tickets online and the tickets are couriered to you. His tickets were on the waiting list. A few days before his journey, he booked tickets for another train and got confirmed tickets. So he cancelled the waitlisted tickets.
In cases of i-tickets, refund is not given immediately. Instead, the passenger is issued a Ticket Deposit Receipt and the money is transferred within a maximum of 60 days. Surjeet followed the procedure and waited for over 60 days. When he still didn't get a refund, he wrote to the Railways and marked a copy to Consumer Education and Research Society (CERS), Ahmedabad.
Constant follow-up by CERS through mails and phone calls bore fruit. Surjeet got his refund amount in his bank account.  
School refunds fees for cancelled admission  
Shekhar Kadam admitted his daughter Anavi in Rangoli School paying Rs.13,450 as fees. However, soon after this, he got transferred. He requested the school to cancel the admission and refund the fees. The school cancelled the admission but said that as per its regulations fees once paid were not refundable. This, it said, was mentioned on the fee receipt. Shekhar argued that since Anavi had attended school only for four days, the school should refund the fees paid for tuition and food after deducting a nominal amount. When the school did not respond positively, he approached CERS. 
CERS tried in vain to mediate between the two parties. Finally, a legal notice was sent to the school. The school promptly refunded Rs. 8,200 to Shekhar. Pleased with this outcome, he gave a part of the refund as donation to CERS for its efforts. 
Remember
The term 'Fees once paid is not refundable' comes under unfair terms of contract and can be challenged.
There is a University Grants Commission (UGC) notification No. 1-3/2007 (CPP-II), which states that an institution or university should refund the fees after deducting processing fee if a student withdraws from the course.
National Commission judgements also support refund of fees.