September-19: Around the World
FRANCE
Chemicals found in diapers
Time to change!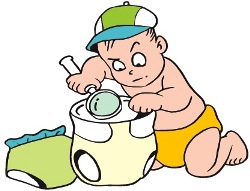 The national health agency of France Agency for Food, Environmental and Occupational Health and Safety (Anses) says it has found chemicals, mostly artificial perfumes, in disposable nappies for babies that exceed safety levels.
Scientists tested 23 types of nappies in real-life conditions as they were worn by children, and calculated the amount of chemicals absorbed. This was then compared with toxicology standards. The Government then asked the manufacturers to withdraw them from the diapers. There was no medical study to link the presence to any health issues but the risk cannot be excluded.
Baby at risk
AUSTRALIA
Smartphone for 'timepass' could mean low wellbeing 
Ditch the phone
Using smartphones to relax or pass time could be an indicator of lower well-being, reports Computers in Human Behavior. Researcher at Deakin University studied the psychological impact of smartphone use on more than 500 students. The constant stream of news and entertainment, which is not always positive, may lead to techno-exhaustion.
People who use phones in a problematic way may feel like they have less control over the life and less quality of life. This might be because they spend more and more time online and not in managing their day-to-day life. However, making calls and sending text messages had a positive impact on users' wellbeing, as opposed to the negativity that came with passively looking at what others are doing on social media.
Don't stand and stare
USA
Second-hand drinking as bad as second-hand smoke
Drinking in injurious to health
Second-hand drinking is a public health problem that affects 20% of adults, according to a new study published in Journal of Studies on Alcohol and Drugs. An analysis of US national survey data showed 21% of women and 23% of men – an estimated 53 million adults – experienced harm because of someone else's drinking in a span of 1 year. The types of harm reported include harassment or threat by someone who has been drinking, vandalism, and physical aggression and harm related to driving, financial or family problems.
The study showed women were more likely to report financial and family problems, whereas men faced vandalism and physical aggression. Almost half of men and women who themselves were heavy drinkers said they had been harmed by someone who is drinking.
Alcohol affects all